Hajimari Live! ( YUYAKU KANGI )" "Hajimari Live!
The first live performance and workshop by sibitt, a storyteller, will be held under the direction of world-renowned artist Miwa Yanagi.
Many local performers, including the "Sound Play Group," will also appear.
Enjoy a new type of experiential live performance with a theme of "Dancing Nembutsu" that has a connection with Hyogo-Tsu, where rap, Nembutsu, and contemporary dance are mixed together beyond the boundaries of their respective genres.

Date and time

Sunday, November 27, 2022, 16:00-19:00

place

Hyogotsu Museum, Hyogo-Hajimari-kan Entrance Hall

Capacity

30 people *General admission from 5:00 p.m. (standing room only)

Entry fee

600 yen (tax included) *includes admission ticket to the exhibition

Contents

<The "still" part.
▶Opening
▶Talk Session
(Performed by: Masato Tanabe, Honorary Director of the museum, Naoto Iwata, abbot of Manpukuji Temple, and Miwa Yanagi)

<The "motion" part.
YUYAKU KANGI" *Please see the bottom page for details.
▶Live performance "YUYAKU
▶Experience Session
(Performers: Sibitt, Sound Play Group, NPO DANCEBOX/Alan Sinanja, Tokimune priests, etc.)

How to apply

[Application form]

Please apply using the linked form below.

Click here for application form

[Round-trip postcard]

Please fill out the following information on a return postcard and send it to the Regional Development Division.
The lottery results will be announced on the reply postcard.
Please write ① "Hajimari Live". 2) Your name (furigana) 3) Date of birth 4) Your organization 5) E-mail address 6) Telephone number

*Both the form and the return postcard are available for a maximum of two people each.

Deadline

Friday, November 11, 2022
Dancing Joy -YUYAKU KANGI
~ Modern day singing and dancing Nembutsu Dancing Mania~.
Hajimari Live! The "motion" part of "Hajimari Live!", "Odori-Yuyaku Kangi-", will be based on the song "YUYAKU" and will feature rap, dance, musical performances, and Buddhist prayer. The performance is based on the song "YUYAKU" and features rap, dance, performance, and Buddhist prayer.
The session is not only for the artists, but also for the participants themselves, who will be able to experience the live performance.
Please enjoy this rare collaboration in Kobe's oldest port town, the place where Ippen Shonin entered into silence.

Dancing for joy・・・Getting salvation and jumping and dancing for joy.
Performer Information
<Sibitto (sibitto)/wrap
Through his exploration of unique Japanese expressions, he shows completely new possibilities hidden in words.
He is an expressionist who is active domestically and internationally not only in the field of musical expression but also in the field of performing arts and classical performing arts.
In recent years, he has been engaged in artistic activities to explore the origins of words and sound – and – to – through theater, performing arts and voice performance, word parts of classical performing arts, and spatial production expressing the occurrence of words.
He has been traveling to various mountains and seas, collecting "toto", breathing life into his own instruments such as bones of animals and birds, and traveling back to unexplored areas of language expression played by kyakusei.
<Miwa Yanagi / Direction
Born in Kobe, Japan. Graduated from Kyoto City University of Arts, Graduate School of Fine Arts.
First solo exhibition in Kyoto in 1993. Since 1996, he has participated in exhibitions overseas.
My Grandmothers, a series of photographic works in which young women perform themselves half a century later.
Produced a video piece, "Grand Daughters," in which actual elderly women share their memories of their grandmothers.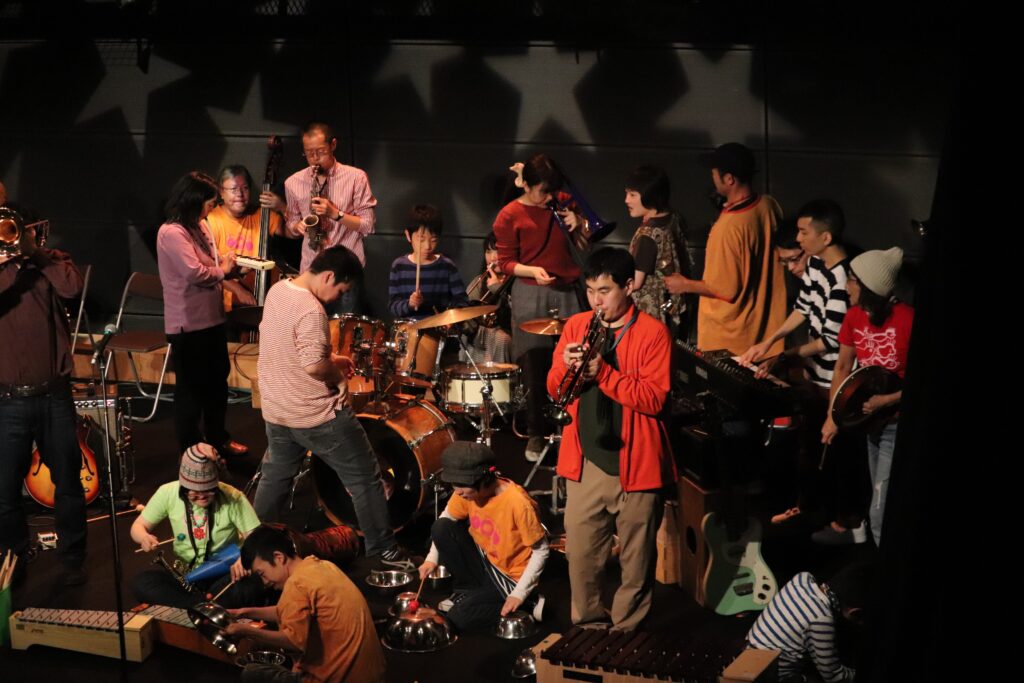 <Opto-Play Group/Performance
Formed in 2005. A large group of artists including people with intellectual disabilities. The group has been active in a variety of activities, including workshops and concerts, with a focus on free improvisation that transcends genres of performance style and expression. 17 years later, the group continues to hold twice-monthly workshops in their hometown of Kobe, and the workshops are still evolving. In November 2021, he released a studio album "OTO" produced by Otomo Yoshihide. Their music, which does not allow for scheduled harmonies, is a sight to behold.
Several of the elite participated in this event!
<Alan Sinanja/Dance
Born in Togo, Africa, she studied contemporary and traditional African dance at Ecole Des Sables, and moved to Japan in 2017 to participate in the 6th term of "Domestic Dance Study Abroad @ Kobe" as a scholarship student. Currently, she is involved in various art projects in Japan and abroad as a choreographer, dancer, and dance instructor.
<Participating Performers>
 coming soon…