Hyogo Prefecture was established on May 23, 1868 (July 12, 1868). Hyogo Prefecture consists of five provinces: Settsu, Harima, Tajima, Tanba, and Awaji.
Today, we would like to introduce some websites and other information that will give you a better understanding of the characteristics of the five Hyogo regions.
Union of Five Hyogo Countries (U5H) (Prefecture's official website)
The personification of the five Hyogo countries, Mogura-san's four-frame manga depicting episodes from the five countries, and the
Gourmet food information, recommended spots, interviews with people related to Hyogo, etc.
The site is full of things to do in the five countries.
The Hyogo Gokoku Expo was held by Hyogo Prefecture in March this year.
A special program was also aired on Yomiuri TV as a linked project.
You can no longer watch the broadcast, but here are some web-only contents.
Yomiuri TV commentator Tatsuyuki Takaoka, who lives in Hyogo, introduces the five countries from his own perspective.
Hyogo 5 Countries Exposition 2022 "Takaoka" from the viewpoints of 5 countries
Please take a look at the contents filmed at the museum, as well as the "extra" section that introduces our museum.
Hyogo Five Nations Exposition 2022: Takaoka's "Five Nations" Perspective – YouTube
Hyogo 5 Countries Exposition|Yomiuri Telecasting Corporation (ytv.co.jp)
Hyogo Five Kingdoms Traveling Exhibition "Beginning of Hyogo Prefecture"
The exhibition will be held at the Great Shoin of Sasayama Castle in Sasayama, Tanba until Friday, July 29.
For more information, please click on the link below.
Hyogo Five Countries Touring Exhibition "The Beginning of Hyogo Prefecture" | Hyogo Prefectural Museum (hyogo-no-tsu.jp)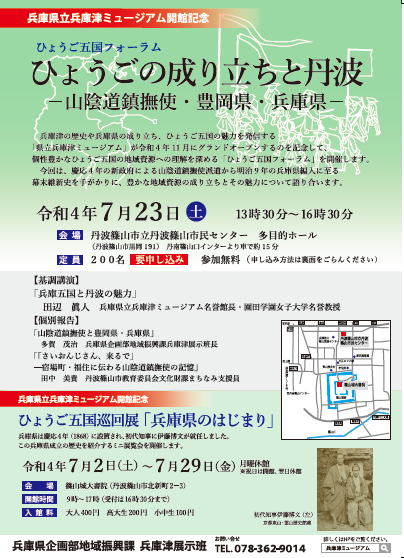 We invite you to visit the first Prefectural Museum. Starting today, we will be touring the museums in the prefecture.
Hyogo Museum Stamp Rally" is now being held. (until December 30).
Those who have reached the five-building milestone will receive a free invitation ticket to all the museums.
This is also a great opportunity to apply for luxurious prizes such as hotel accommodation vouchers.
Why don't you collect them, too?